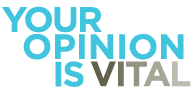 Online Survey
The online survey has been closed, and we are now reviewing the responses. Watch this space for results!
Continue the Conversation
We welcome your continued comments and questions on our future direction and name. Send us an email at
Setting Our Course for the Future
The Credit Valley Hospital and Trillium Health Centre merged on November 30, 2011. Our vision was to unite our strengths and resources to provide the best care for our patients and bring better health to our communities.
We are now working on a strategic plan to bring this vision alive. The plan will help us make the most of the new and expanded opportunities we nowhave as one organization. We are also exploring how to express our vision and our new identity by refreshing our name and logo.
It is vital that patients and their families, physicians, staff, volunteers, and members of our community have a voice in this process. Through this web site you can find out about ways to share your thoughts and hear what others are saying. Join the conversation!
For more information on the strategy development process, click here »
This presentation is also available in alternative text format: strategy development process - Text file »
This video is also available in these alternative formats:
---
What We're Hearing

Telephone Town Hall
July 23
Almost 6,000 local residents connected in at some point during the hour-long town hall, to ask questions and provide input on our strategy and brand. Callers touched on themes such as emergency room wait times, better health service delivery, better communication, shuttle service between the three hospital sites, maintaining staff levels, increasing mental health care for children and youths, and ensuring that outpatient services are available at more than one location. Click here to download MP3 of the event.
Text transcript of this Town Hall is available as:
MS-Word .doc file» or
Plain text .txt file»

---